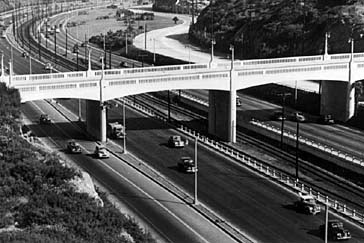 The Red Line ran down the median of the Hollywood Freeway until it was dismantled in 1953. © Security Pacific Collection/Los Angeles Public Library
I was born in Hollywood during the baby boom years.
I grew up in the San Fernando Valley, when the Hollywood Freeway wound its way through the Cahuenga Pass and stopped at Ventura Boulevard. There were no freeways in the San Fernando Valley then and the San Diego Freeway was just a dream. Walking to school I traversed the cleared path of the soon-to-be Golden State Freeway (I-5) which was right next to my junior high school. Just as I was born, the transition from rapid transit to freeways began. By the time I left L.A. in 1984 no one lived more than a mile from a freeway onramp.
Today I live in Washington, DC where I am a new media producer at the Smithsonian American Art Museum and managing editor of its blog, Eye Level. While Washington is one of the most traffic-congested metropolitan areas in the country, I take the city's subway to work every day. My eight year old car has only 19,000 miles on it and my L.A. friends marvel at that feat.
In my off hours I am a net-based artist and meta-narrator: a storyteller of universal localized narratives. Huh? Let me explain: my stories usually take place in my own world. They may involve my family, friends, or strangers I encounter. Yet the thread of each narrative always is woven around some universal truth taken directly from the tabloids of humanity. I am always looking for the "human" in every interaction I have.
In Our Path was the first of these stories. And it has taken me on my own interesting path. As I look back now, creating this documentary didn't change the way I looked at the world. But it was responsible for bringing my world view to the surface. And for the last seven years I have been fine tuning that voice on my own blog, Life Outtacontext.
In 1999 I was the first artist to use eBay as an artform when I auctioned my personal demographics on that commerce site. In response to 9/11, soon after the attacks, I created Dichotomy, It Was a Matter of Time and Place, a 9/11 storytelling project. I was Deputy Director for the U.S. Department of Art and Technology, the shadow cultural agency of the federal government from which I ran "We the Blog."